RECIPES
tasteful delights you can create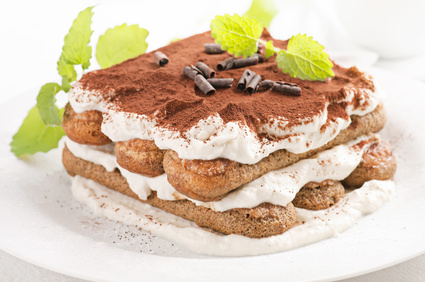 Dark Chocolate Balsamic Tiramisu
Summary:
A favorite of our family for as long as I can remember… I hope you enjoy it as much as we do.
Ingredients:
6  egg yolks

4  tablespoons sugar

1  pound mascarpone (at room temperature)

1 3/4 cups cooled, espresso

3  tablespoons Dark Chocolate Balsamic Vinegar

24  ladyfingers

1/3 cup bittersweet chocolate shavings (Varlhona is a favorite!) 
Preparation:
Using a standard mixer with whisk attachment, beat egg yolks and sugar until thick, about 5 minutes. Add room temperature mascarpone to the egg yolks and beat until smooth.
Add 1 tbsp of espresso and one tbsp of balsamic vinegar and mix until thoroughly combined. 
In a shallow bowl, mix the remaining espresso and Dark Chocolate Balsamic Vinegar. Briefly dip each ladyfinger into espresso mixture. Allowing the ladyfingers to soak too long will cause them to fall apart, so dip briefly.
Place the ladyfingers on the bottom of a 13 by 9 inch baking dish, breaking them in half if necessary in order to fit the bottom.
Evenly spread 1/2 of the mascarpone mixture over the ladyfingers. Arrange another layer of soaked ladyfingers and top with remaining mascarpone mixture. 
Cover with plastic wrap and refrigerate for at least 2 hours or up to six.
Before serving, sprinkle the top with the bittersweet chocolate shavings.
Bon Appetite!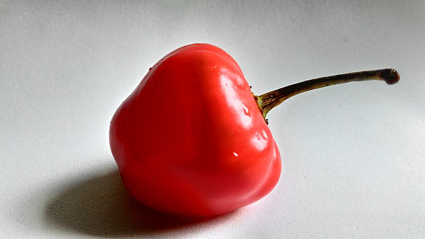 Peppadew Pepper Bites
Summary:
My name is Tracy and in general I have to say, I'm not a great cook. I look at these amazing Chefs on TV and I am impressed to say the least. Recently, I found out that I have allergies – and a good number of them, too. I was at a total loss because everything I normally ate, had something in it that I was allergic to… that explains alot…so this sent me on a journey to find things I could eat and still feel like I wasn't eating chalk dust. As it turns out, I found something that is simple to prepare and is quite possibly the closest I have ever come to making something gourmet-worthy. I hope you will like it too.
Ingredients:
Peppadew Peppers (bright orange/red and very sweet)

Olive Chips (made from nothing but olives, corn, safflower oil, garlic, and salt)

Andanza's Manchego D.O. from Solera (Cheese made from Sheep's milk) or 

Cablanca mild goat cheese from Orange Windmill and imported from Holland.

Traditional Balsamic Vinegar. Although you can substitute your favorite flavor like Raspberry, which is delightful.
Directions:
Slice cheese into small manageable pieces that will fit on top of the size chip you select.
Dice peppers into very small chunks – or if you prefer, you can slice them lengthwise for a larger tang on your palette. I prefer mincing them because they are easier to balance on the cheese the smaller the chunks are…
Place chips onto platter, followed by placing cheese on top of the chips. Sprinkle the peppers on top of the cheese, and then drizzle the vinegar over the top.
Eating with fingers is best for maximum impact. I recommend licking them too.
Enjoy!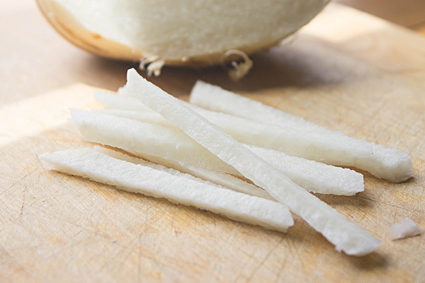 Jicama Slaw Salad
 Summary:
 Tasty salad that revives sleeping tastebuds with just a little kick.
 Ingredients:
Vegetables:
Jicama

Green Onion

Jalapenos (Seeded)

Cabbage/Lettuce (Optional – for body)

Cilantro
 Seasonings:
 Toppings:
Sesame seeds (Optional – for protein)

Slivered Nuts as Topping (Optional – for protein)

Cinnamon (Optional pinch – for zing)
 Directions:
Chop vegetables well. You may shave Jicama for greater visual presentation. Lightly sprinkle seasonings and stir until well mixed. Portion into bowls and add toppings as desired.
Truly a simple, yet tasty salad that you can be free with which to experiment while being assured that you can't mess it up. We never have.
 Enjoy!